EstBAN's highlight of the year – Angel Camp 2015 – took place on September 3 – 4 @ Tartu in cooperation with Latvian Business Angels Network LatBAN and Buildit Accelerator.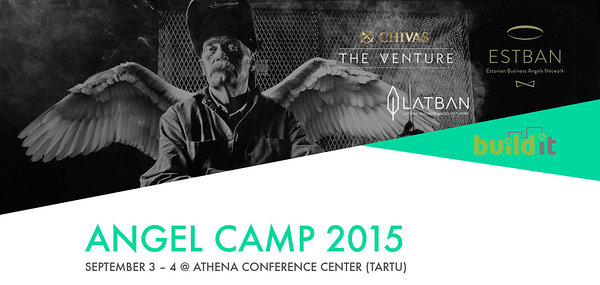 Almost 90 participants from Estonia, Latvia and Finland gathered together to learn from real life cases, network and build relationships as well as to see the marathon of startup pitches.
Day 1 was kicked off with welcoming words from EstBAN president Ivar Siimar, followed by the presentation by Ott Pärna on world trends and 10 break-through technologies as outlined by MIT in 2015: if you want to know what will be the new 'it-thing', see what your little daughter or son is using.
Thomas Padovani shared his story on how he built AdCash into a global company,and Priit Potter guided us through the timeline of Plumbr's current success and future plans.
Maivi Ots from Eversheds Ots&Co highlighted the key things to pay attention to when a flip to US/UK is planned for your invested startup in course of an A-round. The flip usually takes more time and money than planned and a number of cross-jurisdictional issues need to be considered.
Our keynote speaker was Sten Tamkivi who gave a great talk on the role of Entrepreneur in Residence based on his experience in Andreessen Horowitz and how it lead to founding Teleport.
Harri Männistö from FiBAN/EstBAN shared the latest developments about the Nordic Business Angels Network which is being built to better facilitate cross-border syndicated investments into top level startups of the region. Representatives of FiBAN, EstBAN and LatBAN wrapped up the day with a panel discussing the major enablers and barriers of angel investing in their countries.
The late evening session started at Püssirohukelder with a pitching marathon. The fresh winners of VUNK hackathon took the stage, followed by Estonian and Latvian startups. The full list of startups is available here.
We are also proud to announce that the official part of the day ended with the launch of Chivas Regal entrepreneurship competition The Venture with a prize fund up to 1 000 000 USD. Keep an eye on EstBAN Facebook page for more information and deadlines!

Day 2 started with a well needed stretching to be continued with an overview of "what is going on in Latvia" by the chair of LatBAN Janis Rancas.
Heikki Haldre took the stage to tell how Fits.me was built and exited. He stressed on the major learning points: do not invest into a company with a short runway and the valuation matters less than the terms. Olle Tischler from Oracle talked about the sweet spot of building new cloud solutions on the meet-up of IT and business. And then Jevgeni Kabanov brought to the audience his story of ZeroTurnaround of having not spoken to any client until the second(!) product did not sell as successful as the first.
Valter Võhma from Hedman Partners performed the fastest legal pitch on what the angels should know about the chances in the Commercial Code to avoid problems in the future! Lauri Ilison from Nortal opened up on the opportunities with big data and IoT for startup entrepreneurs.
Our special guest Jian Ni described the investment and market entry options in China, both for startups and angel investors. Chinese angel investors look for outbound investments for diversification and have significant funds to back up the expansion in the local market.
As an anchor Indrek Tammeaid recommended to cooperate more with universities for technology transfer. Research and technology landscape is huge opportunity for any type of growth capital and academia needs lean startups/angels.

As the Grande Finale – EstBAN Health Chapter was launched – a subgroup gathering investors interested in health tech startups to take a significant share of investments in Nordic cross border investments.
Also, EstBAN was happy to pay a visit to the sTARTUp Garage48 HUB and Contiber Labs – the brand new co-working facility for founders in Tartu!

All presentations of the Camp for your further reference can be found here and the photos here.
The Angel Camp is over for this year and we hope that you enjoyed the presentations and laid the ground for several long lasting relations, and will join us for Angel Camp 2016!

EstBAN thanks for their contribution and dedicated support:
Ott Pärna, Thomas Padovani, Priit Potter, Maivi Ots, Sten Tamkivi, Ott Jalakas, Harri Männistö, Janis Rancas, Heikki Haldre, Olle Tischler, Jevgeni Kabanov, Valter Võhma, Lauri Ilison, Jian Ni, Indrek Tammeaid, Sulev Kirst, Ranno Tingas from E&Y, Viktoria Ruubel from VUNK, Rein Lemberpuu from Contriber, all participants and pitching startups!

And even more – our sincere thanks to Latvian Business Angels Network, Buildit and Pernod Ricard that helped us make it happen!